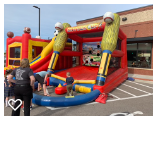 Batter Up Inflatable Homerun game
The Home Run Derby Inflatable is fun for all ages. Step up to the plate and try your best to get as many balls through the holes as possible. The ball is held in mid-air by an invisible pocket of air. The Home Run Derby is the perfect addition to sporting events, carnivals, fairs, and special occasions.
Here is a video of this inflatable:
https://www.youtube.com/watch?v=p10N0AnVuyM
Dimensions
Height

14 ft

Length

22 ft

Width

14 ft
Most of our pricing does not include delivery. Pick-up is located at our Eagan/Inver Grove warehouse. If you need delivery please text 612-743-6418 to arrange this. We sometimes can allow for a Friday pick-up for Saturday parties and drop-off on Sunday morning. If that unit is not rented, I am very flexible on whenever works best for you to return the inflatable is fine. I always try to allow for a nice long weekend rental if possible.
We are also always looking for motivated men and women to join our team and help with sales and marketing, and possibly help with setting up events with our photo booths or the inflatables