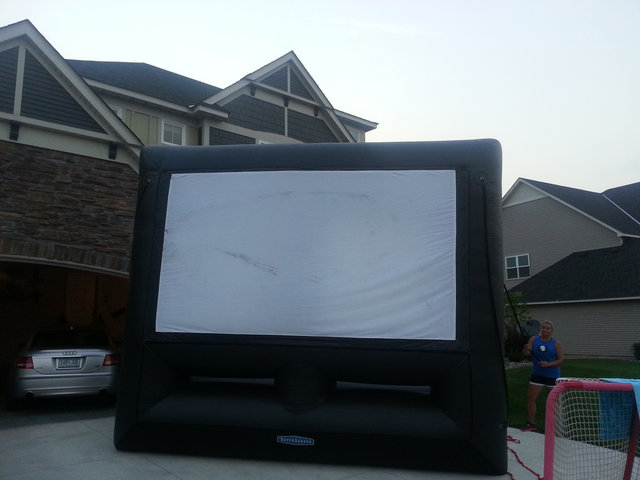 Giant Inflatable Movie & Projector & Sound System
I have 2 inflatable movie screens. One is slightly smaller that could fit indoors if space was a concern.

I also provide a speaker system, and projector.

If you need a DVD player I also include that or it will play with a laptop or gaming system.

This is very fun for gaming and it is very exciting to play Fortnite and other games on the big screen outside.

If you wanted to add on a commercial Pop Corn Machine I also rent them as a package with this set up for an additional $30 (not including supplies).


Most of our pricing does not include delivery. Pick-up is located at our Eagan/Inver Grove warehouse. If you need delivery please text 612-743-6418 to arrange this. If possible we will try to deliver a day before your party date. This is dependent on if the unit is not rented, weather permits, and we have the staff to deliver a day before. If we are not able to deliver the day before, we will deliver an hour or 2 in advance of the start time of your event.
We sometimes can allow for a Friday pick-up for Saturday parties and drop-off on Sunday morning by 10 am. If that unit is not rented, I am very flexible on whenever works best for you to return the inflatable Sunday or potentially Monday. I always try to allow for a nice long weekend rental if possible, but it is required that you bring it back clean and dry.
We are also always looking for motivated men and women to join our team and help with sales and marketing, and possibly help with setting up events with our photo booths or the inflatables