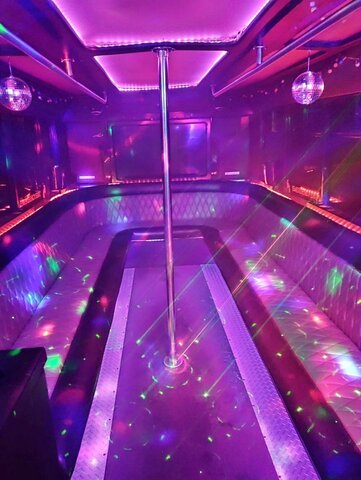 Party Bus
THE CITY LIGHTS PARTY BUS.
YOU CAN GET MORE INFORMATION ON OUR PARTY BUS AT:
A 14 Passenger Bus With Limo Style Seating
This bus seats up to 14 passengers in a horseshoe-style configuration.

A Clean, Good Smelling Bus!

Great Sound System!
Plenty of sound power to dance the night away. Bluetooth enabled so you can be DJ for the night, if you wish. If not, I've got the music to keep the party going & singing all night long for any age group & taste!

Disco Lights & Karokee Machine included.

3 Flat Screen TV's For Viewing Pleasure. We will be adding a Video Gaming Party Package very soon.

We are open to a variety of other uses for our Party Bus and looking to add Airport Shuttle, Corporate Shuttle, and Team Building events to Top Golf and other venues, Senior Shuttle, and Day Trips for Seniors.
We are also looking to create a weekly Casino Shuttle where we get a group of people that might be interested in pooling the money we can get for the bus entry fee and using it to play slots, craps, blackjack, or any games the group would like to play. After a designated time, we will stop playing and split the profits as a group minus a % that the bus will use as an operating expense based on the number of people we can get on each shuttle. If you might be interested in participating please message me if you would like more information on our Group Casino Shuttle.
FOR PRICING DETAILS PLEASE CALL 612-743-6418