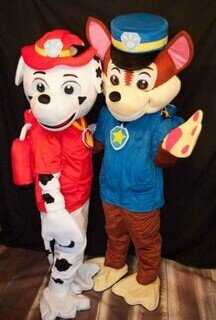 Paw Patrol Characters. Sky, Marshall, Chase
If you're looking to surprise your kids and have one of the Paw Patrol stop by your party, we have Chase, Marshall, and Sky for rent.
You can come to pick up the costumes the day prior to your party and have someone at the party dress up in them. I am very flexible on when you would like to drop them off as well. If I don't need them, you are able to drop them off anytime that works best for you that following week.
I rent them for $40 for 1 costume, $80 for 2, and $100 for all three of them. **Please write in notes at checkout what ones you want to rent!
If you would like one of our staff to come out and entertain the kids we do offer a Paw Patrol Party appearance package. We will come out and play some games, have a dance party, and take photos with all the kids. Prices vary based on how many characters you would like to have come out, how long you would like them, and how far away from Eagan you are located.
Here is a short video from a party we did.
We also do quick meet n greets where one of the Paw Patrol will stop by your house and just say hello or bring your child a special gift or surprise.
Please text me at 612-743-6418 if you have questions about pricing.